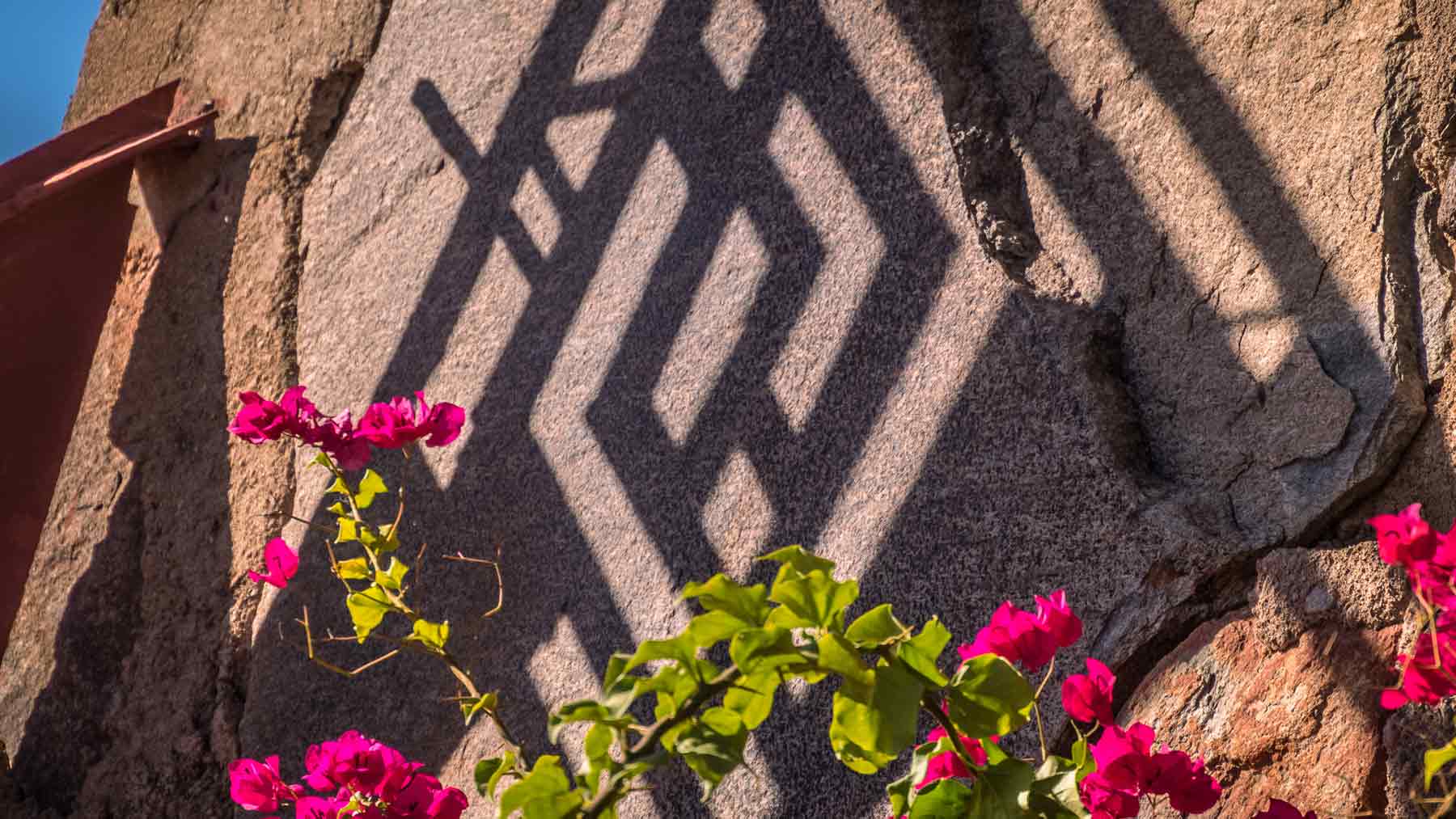 Quick Stop - Taliesin West
Our tight schedule in Sedona was because we really wanted to be able to visit Taliesin West, Frank Lloyd Wright's home and architecture school near Scottsdale. The only way to see around Taliesin West is to go on a tour, which we had booked for late afternoon to give us as much time in Sedona as possible and so we wouldn't be out in the midday heat (even in Autumn). We were fortunate the Taliesin West wasn't too far off the route to our hotel for the night.
I had visited Taliesin West several years before when a well-timed work trip coincided with a colleague that lived nearby having an interest in architecture. None of the rest of the family had visited and because we had always had an interest in architecture (that happens when your father is an architect) this was a must visit while we were passing through.
Taliesin West was built as Frank Lloyd Wrights winter home and school. It still operates as a school, not just a museum, and if you visit at the right time of year you can see students working on their projects.
We're not normally ones for tours and would rather get to look around ourselves but that isn't possible at Taliesin West. This is probably very lucky because the guides know the stories behind each of the spaces and can even relay personal stories about the place. We wouldn't have even noticed the petroglyphs that had inspired the Taliesin West symbol either!
We stayed in Scottsdale for the evening at the lovely little Bespoke Inn. We arrived quite late so the galleries and museums nearby were closed and the area felt very quiet. So instead of using the bikes that the Bespoke Inn had available we focused on food and wine!
We hadn't realised it but the restaurant connected to the Bespoke Inn was very popular and we only just managed to squeeze onto an early table.
We found out why Virtu was so popular – the food was tasty and they really knew their wines. The evening essentially became all about the wines. When we travel we like to try local wines that may not be readily available elsewhere. There aren't a lot of local wines in Arizona but the guys at Virtu were really helpful in finding interesting & great tasting wines (and recommending vermouth which I have developed a taste for). In a slightly weird coincidence, they recommended a Charles Smith Syrah (sorry I don't seem to have the exact details) that wasn't on the menu. I'd never heard of Charles Smith Wines until about 2 weeks before when I'd received an email saying I'd won some wine glasses because I'd bought a bottle of Riesling that turned out to be a Charles Smith Wine. Fortunately, I liked both the Syrah & the Riesling!
There was no time to linger in Scottsdale (seems to be a theme). We were off first thing in the morning, as we had to get to what was effectively the middle of nowhere New Mexico and also lost an hour as we went from Arizona to New Mexico.